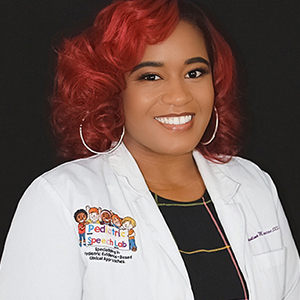 Quintina Briscoe, M.S., CCC-SLP is an African American Speech-Language Pathologist, CEO, and Founder of the Pediatric Speech Lab.
With a Bachelor's degree in Science from the University of the District of Columbia and a Master's degree in Speech-Language Pathology from Howard University, Quintina has developed her work history and ethic from working with individuals ranging from 0-90 years of age. She has had the experience of working with numerous individuals and disorders with minor deficits such as stuttering/articulation delays to more major deficits resulting in swallowing complications (dysphagia) and traumatic brain injuries (TBI).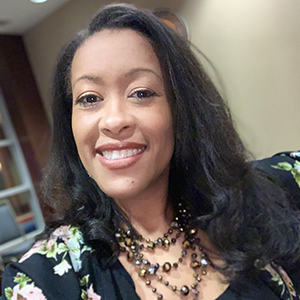 Kaleena Rogers-Hoover (Ms. K) has been a Speech-Language Pathologist for over 13 years. Mrs. Hoover received her Undergraduate and Masters Degrees from Howard University. Mrs. Hoover has specific training in the area of early intervention and Autism Spectrum Disorder. Mrs. Hoover has worked as a school-based Speech Pathologist for over 8 years and as a Private Practice Speech-Language Pathologist for over 12 years. She enjoys working with the pediatric population from birth to high school age.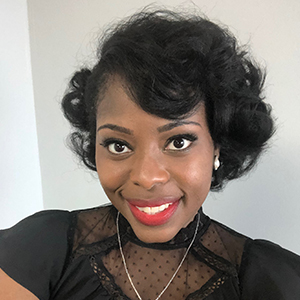 Jadae Lawson, M.S. CCC-SLP (Mrs. J), is a Speech Language Pathologist who earned her Bachelor's degree in Hearing and Speech Sciences from the University of Maryland, College Park. She then continued her studies and earned her Master's degree in Speech-Language Pathology from Howard University. Jadae has worked with a wide array of populations as well as settings. She has experience in working with all ages from pediatrics to geriatrics. Jadae most enjoys working with disorders related to articulation, language delays/deficits, dysphagia (swallowing deficits), and aphasia.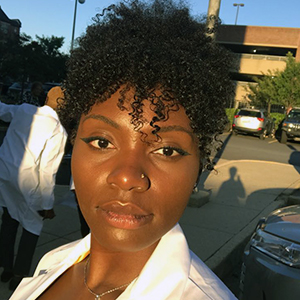 Khalia Kirton (Ms. K) is a Speech-Language Pathology Clinical Fellow (CF). Khalia received her Masters degree from Howard University Graduate program in Speech and Language and currently works as a Speech-Language Pathologist at our affiliated elementary school in Washington DC, Eagle Academy Public Charter School.
In 2009, Dr. Nelson received her M.S. in Special Education from Emporia State University. In 2014, she obtained her BCBA certificate to work with children in the behavioral health field. Jessica has worked as a BCBA for 5 years in both home and clinic settings. Jessica has also published numerous peer-reviewed research articles and presented her research at various conferences nationwide. Her research interests include creating antecedent interventions, use of teacher praise, mentoring and training of pre-service and beginning career teachers, as well as academic interventions for students with the most significant cognitive disabilities.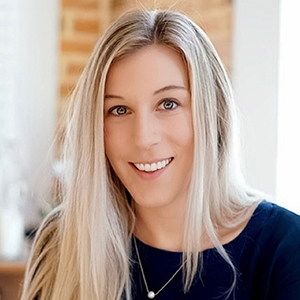 Alexa has been practicing Speech and Language Pathology for two years and has a dual license in Maryland and Virginia. She works primarily with children 2-21. Alexa specializes in therapy for kids with autism spectrum disorders, expressive and receptive language delays and articulation disorders. She also has experience working with children who are monolingual and bilingual language learners.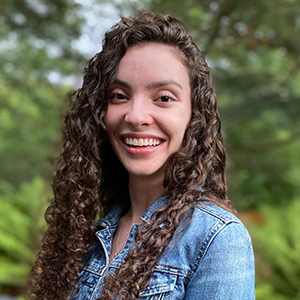 Jackie Berges, M.A., CCC-SLP, (Mrs. Jackie) is a Speech-Language Pathologist and Teletherapist at Pediatric Speech Lab. She earned her Bachelor's degree in Hearing and Speech Sciences and Master's degree in Speech-Language Pathology at the University of Maryland. Jackie has developed her clinical skills working with a variety of speech and language disorders including articulation/phonological disorders, childhood apraxia of speech, dysarthria, fluency disorders, expressive/receptive language disorders, cognitive disorders, and voice disorders.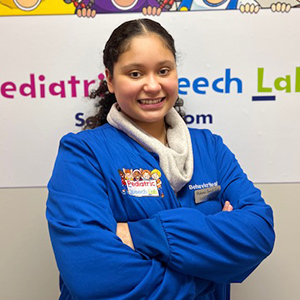 Gabryela Barazza (Ms. Gabby) possesses a wealth of administrative knowledge in rehabilitative medicine (physical therapy and speech therapy). She currently possesses a certification in pediatric, adolescent and adult behavioral therapy. Gabryela is one of our Registered Behavior Technicians (RBT's) who specializes in Pediatric Autistic disorders.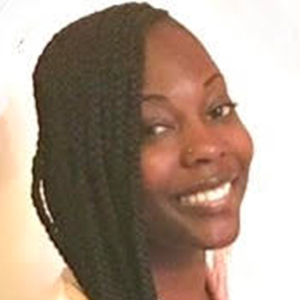 Geneva Mueller (Ms. G) is a Speech-Language Pathology Assistant. Geneva is licensed by the Maryland Board of Speech and Language Pathologist and Audiologist. Geneva earned her Bachelors of Arts in Hearing and Speech Sciences from the University of Maryland-College Park. She is an Air Force veteran who decided to switch career fields from protecting personnel and resources to helping individuals with their communication needs. Geneva is passionate about helping individuals with their communication needs and looking for new ways to help build speech and language skills through everyday activities. She is patient, observant, empathetic, and thoroughly enjoys working with children. When she is not working, she enjoys spending time with and building memories with her husband and son.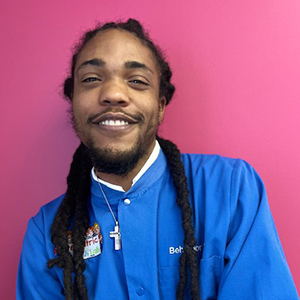 Mr. Terence Dorsey (Mr. T) has over 5 years of experience in working with children with special needs. Because of his adoration for the special needs population, he enrolled and graduated from George Washington University with a Masters Degree in Special Education. Mr. T soon desires to earn a dual masters in Behavioral Health as a BCBA to assist with programming behavioral successes for the Special needs population.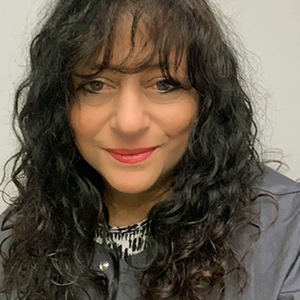 Sharon DeGuzman (Ms. Sharon) is the Office Manager at Pediatric Speech Lab. Ms. DeGuzman has over 30 years of Medical Office Management/Administrative experience. Ms. DeGuzman has experience with medical charting, medical billing, insurance management, patient charting, patient scheduling and office organization/management. Ms. Sharon previously worked diligently in a Pediatric Speech and Rehab practice where she assisted with developing systems and policies for 8 years, prior to coming onto the Pediatric Speech Lab team.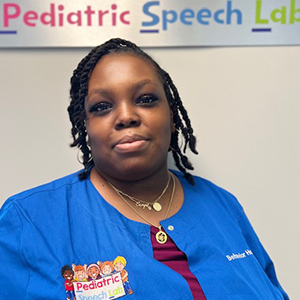 Ms. Shirley Hebb (Ms. Shirley) has been an educator for 14 years and a Special Educator for over 20 years. She has experience with children 6 months to 18 years of age, assisting them with managing behaviors, learning outcomes and facilitating programs in the school setting. Shirley has experience working with the special needs population as a dedicated aide and classroom teacher.